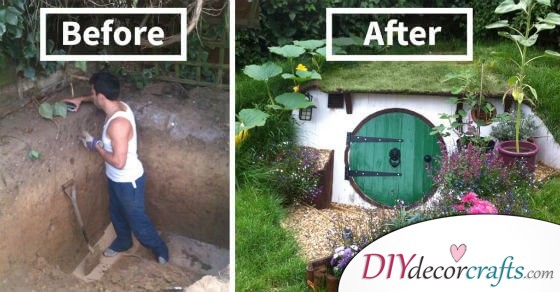 This article is not just for Tolkien fans, it is for everybody who wants to see something unbelievable! The 30-year-old Ashley Yeates from Bedford, England, decided to build a "hobbit hole" in his garden. This awesome project took almost a year to complete, but the outcome can fascinate everyone! Let's discover the real house of hobbit characters!
After a tree died in the yard, Ashley Yeates decided a hole was just the thing to take its place. So the construction expert and designer from Bedford made his dream come true and became famous all around the world.
*Many readers have commented that the structure will suffer from water damage. Yeates explains the waterproofing procedure on his blog: "We created a strong internal wooden frame which was hugely over-engineered…The corrugated iron was used to seal everything in and the panels were all seam welded from top to bottom once in position and then finished with plenty of waterproof barriers. The base concreted with waterproofer and finished with further waterproofing and finally a levelling compound so there was a lovely clean finish inside."
Let's start at the beginning! This is how all (modern) Hobbit Holes begin…
A load bearing roof was necessary to make it "mowable" once the grass was planted
Mr Yeates worked a lot with his own Hobbit hole, but isn't it simply awesome?
 The outside of the Hobbit hole is almost ready.
 How To Build The House Of Hobbit Characters In Your Backyard
Waterproofing was essential everywhere.
Hobbit Hole with the sod roof in place. Just like in the movie!
After the most difficult parts, the interior comes together as well.
Of course, ventilation is key while underground.
 How To Build The House Of Hobbit Characters In Your Backyard
It looks really cosy!
 There is no doubt that you can find the perfect shelf for Tolkien books here!
 Finally, it is ready!
Now all that's missing is a hobbit to inhabit this home…

Thank you for reading our article of "How To Build The House Of Hobbit Characters In Your Backyard"! [afterpage]
Advert