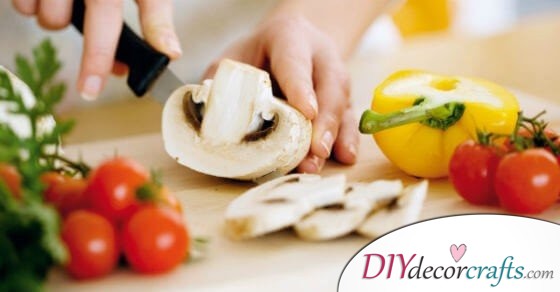 Would you like to improve your skills in the kitchen and learn more about the best tricks? Let's check out this online cooking class which will help you a lot and teach you the most useful tricks. Everyone wants to be effective in the kitchen, so don't miss the following 18 tips. It will inspire you to cook way more often and enjoy it!
When storing warm leftovers, leave a corner of the container open to vent.
The temperature of the food will lower more quickly, so fewer bacteria can form.
Defrost items (except meat) by using a blow-dryer.
 Freeze your meat for 1-2 hours before cooking, so you can cut thin slices.
We can't stand garlic in our hands, but fortunately, we have a great tip: rubbing your hands against stainless steel.
Cooking popcorn in the microwave with a bowl and a plate? Yes, it's true!
Just microwave it for a couple of minutes and flavor it as you want without unhealthy chemicals!
You can use a George Foreman grill or panini press to make omelettes, hassle-free. It simply sounds awesome!
Check Out Your Online Cooking Class With The Best Tricks In The Kitchen