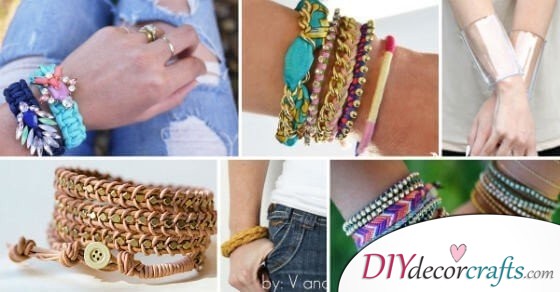 Advert
Every woman has her own and unique personal style, so your bracelets can make or break your entire attire. No wonder that some ladies simply have a difficult time finding a bracelet that meets her needs and tastes. Here you can discover 30 awesome jewelry making ideas and hopefully you will find your favorite bracelet project! 
DIY Wrap Bangles
These are some simple, super original and cheap bracelets that you can easily make yourself. If you are a hippie/bohemian girl who loves to dress casually, these DIY wrap bangles are for you!
See the tutorial: here
 Discover Awesome Jewelry Making Ideas: 30 DIY Bracelets For Classy Ladies
Nautical Rope Bracelets
You can use every single color that crosses your mind to create exquisite and customized nautical rope bracelets.
See the tutorial: here
 Discover Awesome Jewelry Making Ideas: 30 DIY Bracelets For Classy Ladies
Hinge Bracelet With Gold Chains
This is amongst the classiest DIY bracelet tutorials you can find here. If you wear a lot of golden accessories and clothing, this idea will come handy!
See the tutorial: here