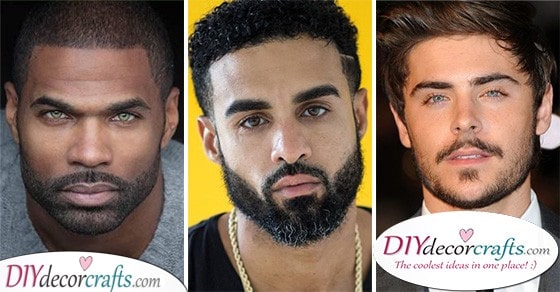 Perhaps you are a guy in search of a way to perk up your face. Or maybe you are trying to discover a manner in which you can add some length to your face or head.  Well, if it's available to you, why not grow out a beard or a moustache? Beards come in a variety of shapes and sizes, meaning that you'll be sure to find one to your liking! If you have a round face, you will want your beard and moustache to add definition and length to your face! Take a look through our 20 best beard styles for round face men. You can find the best beard shape for a round face!
1. Short Stubble – Best Beard Shape for Round Face
Do you by any chance have short hair, like a buzz cut? Then make sure that your beard goes perfectly with the length of your hair! A great idea for guys who have round faces, as well as short hair, would be to try out simple stubble! You can grow it out longer or keep it short, depending on what sort of length you'd prefer. Grow out the stubble into the shape of a full beard. The form of a full beard will assist in giving your face definition.
2. An Easy Goatee – Charming and Laidback
You will be familiar with the term goatee if you know a little about beards! If you don't want to grow out a full goatee, you can opt for longer stubble in the shape of a goatee! Stubble requires less maintenance and effort to keep it looking great! But instead of letting your stubble grow all over your face, turn it into the shape of a goatee! One of the great things about goatees is that they look great in any length. So whether they are longer and more grown out or just shorter and stubble-like, they are certain to look fantastic! A goatee will look great on round faced men as well! This is one of many great round face short beard styles!
3. Casual and Cared For – Best Beard Styles for Round Face
Here is one of many great beard styles for round face men. This is no other than a chin strap combined with an attached moustache. The chin strap consists of a beard, either short or long, running along the chin of your face. Chin straps don't reach up to your cheeks. Combining a chin strap with an attached moustache will present you will a well cared for look, as well as giving your appearance a boost in manliness.
4. Simple and Youthful – Great for Lazy Guys
Do you consider yourself to be a lazy guy? If you don't really like going to hairdressers' or barbers' salons, then you might want to find a beard, that you can style at home by yourself! With the help of an electric razor, you'll be able to shave or trim a beard. We would recommend that you try a full beard! These beards for round faces will not only look great on a round-shaped face, but they are also fairly easy to style by yourself!
5. A Retro Vibe – Best Beard Shape for Round Face
Find beards for round faces that look amazing and suit your style and age as well! If you are over fifty, you may want to try out a beard that brings certain retro vibes with itself! A great place to start off would be a long, full beard. Feel free to grow out your sideburns a little and don't forget about growing out your moustache either! A beard style such as this will definitely bring the eighties alive again! Let your hair grow out a bit longer in order to match the beard!
6. Adding Definition – To Your Cheekbones
A great tip for men who have round faces would be to try ways in which you can lengthen your face. Or another idea would be to add definition to your jaws or cheeks! How can you achieve this? Allow your beard to grow along your chin, reaching up to your jawline and cheeks. Naturally, don't leave out your moustache either! The fact that your beard will grow up towards your cheeks will help in adding definition to your jawline. This will take away the feeling of roundness from your face.
7. A Short Handlebar – Best Beard Style for Round Face
Perhaps you'd like to spruce up a simple beard with a moustache! While there are a lot of moustache types and shapes to choose from, here is one that will look fantastic combined with any sort of beard. This is none other than the handlebar moustache! The handlebar consists of letting the moustache grow out for a while before curling it upwards! Of course, you may decide to keep your moustache somewhat shorter. A short handlebar will still require to be combed if you don't want your moustache to look unkempt! These will make great round face short beard styles!
8. Growing It Out a Bit Longer – On Your Chin
As we mentioned before, a lot of men who have round faces want to find a way, in which they can take away a bit of the roundness. One easy manner, which doesn't require much effort or energy at all, is no other than letting your beard grow out! A full beard will look fantastic! But instead of keeping the facial hair growing evenly everywhere, add some length to the area that grows on the chin. By letting your beard grow a bit longer on the chin, you will successfully create the illusion of a longer or more oval-shaped face.
9. Effortless with Stubble – Best Beard Shape for Round Face
You may be wondering, why should you add length to your round face? There's absolutely no reason, why you have to do this. After all, round faces are just as attractive as any other type of face shape! Here is a haircut and beard style to try out, if you want to own the roundness of your face! Get both your hair and beard shaved short, creating a buzz cut and some short stubble. This best beard shape for round faces is guaranteed to give you a manly look!
10. Paired with a Pomp – Easy Facial Hair
Make sure to pair your facial hair with your hairstyle! A hairstyle that a lot of men with round faces try out is no other than a quiff or a pompadour. Both of these hairstyles are styled upwards, presenting the head with more length. If you have a hairstyle full of volume, such as either of these, it would be advised to keep your beard simple! A shorter version of a full beard should look fabulous with a hairstyle like this. You don't want to add too much length to your face!
11. A Casual Goatee – Best Beard Styles for Round Face
How about you try out a simple and casual goatee? Matched with a great hairstyle, a goatee can easily spruce up your whole look! Goatees come in all sorts of lengths and shapes, meaning you will easily be able to find one perfect for a round face. Not to mention, a simple and easy goatee won't require a lot of maintenance, meaning you won't have to put the time and energy into looking your best every single day! For a simple and short goatee, try a similarly short haircut! Match your haircut with the best beard styles for round faces!
12. The Full Beard – Will Look Great with Wavy Hair
Maybe you are in search of a type of facial hair that will look great not only with your round face but with your locks of waves! One type of beard style, that goes well with practically any hair and face shape, is no other than the classic full beard! For a rugged and manly look, you can grow out your full beard a bit longer. So, if you have wavy and longer hair, we would recommend matching it with a full beard! Again, the full beard will add length to your face, taking a bit of roundness away from it.
13. The Anchor Beard – Best Beard Shape for Round Face
Another type of beard to try out whether you have a round face or not is the anchor beard! These round face short beard styles consist of two parts of facial hair.  A moustache and the beard on the chin, that is just a bit longer, than the rest of your stubble. When finished, the shape of your anchor beard should resemble an anchor! So, make certain to give this anchor beard a try, if you are looking for something simple!
14. On the Chin – With a Mouche
There is a large variety of beards or types of facial hair to choose from! Just one of these ideas consists of the combination of a mouche and a chin beard! The chin beard will add a bit of extra length to your face, especially if you have shaven off the rest of your facial hair. Include a mouche, otherwise known as a soul patch, to your beard style to perk it up a little more! A chin beard with a mouche will present you with a suave and charming look!
15. Handsome and Manly – Best Beard Styles for Round Face
Find a beard style that will really bring out the best of your face! As we have mentioned before, you can't really go wrong with a full beard. If you leave it short and let it grow out along your jawline, you'll be adding definition to your face as well! Which is perfect for anyone who wants to add angles to their round face. Pair your full beard with a detached, also known as a hanging moustache. This moustache will take your beard style to the next level!
16. A Classic Look – Elegant and Refined
Look your absolute best by finding the right beard for your round face! It's well known that a classic full beard will look just about perfect with any haircut, as well as any face shape. Keeping this in mind, it makes a full beard a great option to try out and feel free to grow out a moustache next to it. You can't really go wrong with it! Have your full beard shaved shorter, which will make it easier to manage and keep it looking cared for. 
17. A Fantastic Fade – Best Beard Shape for Round Face
If you have a fade haircut, then make sure that you pair your haircut with a similar sort of beard! How about you opt for a faded beard? To keep this beard looking good it will require maintenance, as facial hair grows pretty quickly. This means the fade will grow out eventually, so you'll have to get it shaved again! Also, to get the fade looking right, you may want to go to a professional, as this will ensure that the beard turns into a fade in a smooth manner.
18. Complement Your Buzz Cut – Beards for Round Face
Do you have an awesome haircut that you would like to find a beard for? If you have a buzz cut, you may just be looking for a simple beard to pair it with! A type of beard that will look awesome with a short buzz cut, is no other than a full beard. The short hair will actually complement the length of the full beard. Naturally, you can find some different ways to perk up the beard, Just keep in mind that a full beard, that is of medium length will need to be cared for and taken care of, in order to keep it from looking grisly and unkempt.
19. Clean Cuts –

Best Beard Styles for Round Face
A simple solution for any guy, who wants to add length to their face, would be to grow a longer beard, especially on the chin! Style a beard such as this one with a quiff, especially if you still want to add a bit more length to your face!
20. A Unique Moustache – And a Chin Beard
Finally, we have brought you a chin beard with the addition of a well-shaped and prominent moustache! Besides growing your chin beard longer, make sure that your moustache grows out well as well! When your moustache has grown out long enough, you shall be able to shape it into a handlebar, or any other type of moustache of your choice!
With the help of our pick of the best beard styles for round faces, we hope you found inspiration concerning the best beard shape for round faces! For other ideas, such as Men's Medium Beard Styles or Long Beard Styles, check out our website!
Advert