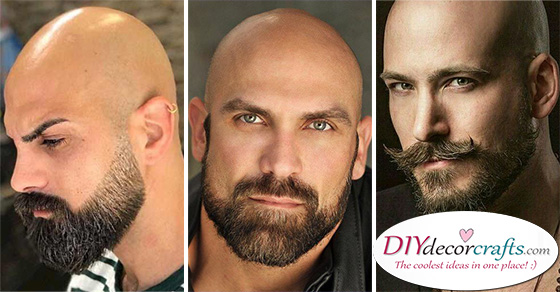 Are you bald by any chance? Or have you shaved off your hair? You may want to add a bit of manliness to your look, but how can you accomplish that easily? Well, why not grow out a beard or a moustache? When it comes to beard styles for bald men, you'll want to find something that suits the shape of your face and head! Adding a beard or moustache will definitely perk up your overall look. So, find out what suits your look the best and look through our pick of 20 ideas concerning shaved head with beard styles! You'll be certain to find some inspiration amongst these ideas! 
1. A Full Beard with a Fade – Shaved Head with Beard Styles
There are a lot of beards to choose from. So according to what your face and head shape are like you'll be able to find something perfect for yourself! A type of beard that will look good on any guy is no other than a full beard! Full beards can be grown out short or long, depending on your preference. In order to perk up a full beard, how about going for a fade? This means that the upper edges of your beard should be shaved shorter as if fading into your skin. A faded full beard is guaranteed to look amazing!
2. A Scruffy Beard – With a Handlebar Moustache
You may know that a lot of men can't grow out full and thick beards. Sometimes facial hair grows out in patches, making it impossible to create a full beard out of it. If your facial hair is a bit patchy, we would advise trying out a longer length of stubble. A scruffy beard won't necessarily give you an unkempt look. Especially if you pair it with an amazing moustache! Depending on your style, try choosing a moustache that will suit your face! A unique moustache would be a handlebar, which is worth trying out!
3. Simple and Full – Beard Style for Bald Men
You don't necessarily have to opt for a beard style for bald men that is incredibly unique. A simple and full beard will do the trick just as well! As we mentioned before, most face shapes can pull off this type of facial hair. Not to mention, it is also suitable for all ages. So even if you are over fifty, this beard is guaranteed to boost your appearance! Depending on how long your full beard is, you may have to take care of it. Use beard oil or balm to keep it healthy and cared for and make sure to comb it out!
4. Short and Simple – Keeping It Real
Here is a simple and short beard, that doesn't require much effort or energy! A short beard such as this one will need to be trimmed occasionally, in order to keep its length. This type of beard will look great on guys who have oval, triangular or square-shaped faces. Adding a moustache to this look will only help in boosting the overall appearance of it! You can even let your sideburns grow out a little as an extra touch!
5. The Anchor – Shaved Head with Beard Styles
Are you in search of a shorter type of beard style for bald men? A fantastic idea would be an anchor beard! But what does the anchor beard actually consist of? The anchor beard is pointed, reaching across the jawline. They are paired with moustaches, making these beards resemble the shape of an anchor. The anchor beard really brings out the feeling of confidence and boldness. Not to mention, this short beard trim will go really well with any type of haircut, This will make a great type of facial hair for any guy in search of something short yet simple!
6. Clean Shaved Lines – Sophisticated and Refined
Find a beard that will look great paired with a shaved head! You may just be in search of something on the simpler side, but with bold lines! For example, grow out a full beard, you may even decide to let the end of it grow a bit longer, turning it into a ducktail or a Garibaldi! This is up to you! As for the sides of your beard, shave the facial hair off your cheeks in straight lines. Clean cut lines like this will take your beard game to the next level!
7. Adding Length – Beard Style for Bald Men
Perhaps you are in search of ways on how to lengthen your face. After all, a lot of people who have either square or round faces try to find ways of lengthening their faces. An idea would be to grow a beard, giving the chin more length! You don't necessarily have to let your beard grow out long everywhere, mainly let it lengthen around the area of your chin. While helping in adding length, a beard like this one will give you a bold and daring look! Feel free to add a moustache to this look as well!
8. A Viking Vibe – Manly and Rugged
A style of beards that has come into trend over the past several years is no other than the Viking beard. Viking beards are usually considered to be facial hair grown out long. These don't require a lot of grooming and after they reach a certain length, you'll even be able to braid it if you want to! A Viking beard will look terrific with a shaved head! So, if you are a fan of rugged and manly beard styles, this might be a great option for you!
9. Stylish and Classy – Shaved Head with Beard Styles
When it comes to shaved or bald heads, it is recommended to pair it with a beard! One of the best solutions for a man who is bald would be to grow a full beard. A full beard, no matter whether it is short or long, will help in adding definition and a manlier look to your face. Not to mention, it will also assist in defining your jawline. Even if you aren't able to grow an intense and thick beard, even a bit of long stubble will do the trick as well!
10. Long and Full – Beard Styles for Bald Guys
Maybe you are lucky and you are able to grow out a long and thick beard! This is not something all men can achieve! A lot of men out there have patchy or thin facial hair, leaving them with no choice but to try out stubble. However, if you have thick facial hair, consider growing out a long beard. Depending on the shape of your face, give the beard a unique cut, to bring out your best angles. For example, you can go for a full beard, ducktail or even a Garibaldi, according to what would look great for your face and head shape!
11. The Ducktail – Beard Style for Bald Men
If you are familiar with different types of beard styles, you will have probably heard of the ducktail. It's a longer type of beard, that is grown out to be a bit rounder and wider than a standard full beard. A long ducktail beard is full, yet inverted on the sides, giving it that classic pointed and diamond shape. You may be asking whether a ducktail would suit your face shape. It is a great choice for men who have round faces, as the pointiness of the beard will take away from the roundness of the face and head.
12. Full and Round – A Youthful Look
Perhaps you are in search of a beard that will actually add a bit of roundness to your face! For example, if you have a square or triangular-shaped face and head, then a full and round beard will make a great option! The facial hair doesn't necessarily have to grow out too long, a short or medium length beard will look just as great! All you need to make sure of is that it grows out wide, instead of turning into a pointy ducktail!
13. Bald with Stubble – Shaved Head with Beard Styles
As we have mentioned before, not everyone's beard grows thick and full. At times like this, it's also great to resort to a longer version of stubble. Stubble is extremely low-maintenance, requiring a trim or shave every now and then. You won't have to take a lot of care of it though, meaning you won't have to apply beard oil or balm to it or comb it on a daily basis! This makes stubble perfect for guys who want to look great but without putting a lot of effort or energy into their facial hair!
14. A Handlebar Moustache – With an Anchor
Give yourself an old-fashioned and handsome look, by growing out your moustache into a handlebar. These groovy moustaches are actually named after the handlebar of a bicycle. They are all about curling your moustache upwards. This type of moustache usually takes about three months to grow out, by which time it will be long enough to style! Pair it with an anchor beard for a retro and fun appearance!
15. Trendy and Masculine – Beard Style for Bald Men
We have talked quite a lot about full beards! They add a masculine demeanour to a guy and these beards will look great on any type of face shape! How about trying out a long version of the full beard. If you're afraid it might make you look unkempt and a bit grisly, it's not the case at all! But you will have to put some time and effort into caring for your beard. Long facial hair requires to be combed. Adding some beard oil or balm will also help in giving them a healthy shine!
16. Easy to Groom – Low Maintenance Facial Hair
Are you a guy who wants to put minimum effort into their facial hair? Then we would recommend that you stick to a short beard or stubble! Both of these are low-maintenance compared to long styles of beards. Naturally, to keep it from growing too long and bushy, you will have to shave or trim it every now and then. But even a short beard will look great for a guy who is bald!
17. A Thin Line – Shaved Head with Beard Styles
When it comes to beards or facial hair, always feel free to try out something new and unique! A great idea would be to shave your beard and moustache into a long thin line reaching across your face. Using thin lines instead of an actual full beard or stubble can bring out the angles of your face, allowing you to show off your jawline. This is a very minimalist style of beard that will complement a bald or shaved head really well! So, how about you give it a try?
18. Easy and Effortless – Shave It Yourself
Here is yet another type of beard, that doesn't require much maintenance. And you won't even need to go to a professional barber to get your beard cut! This is one of those bald head beard styles, which you'll be able to trim and shave easily at home! As we said before, a short and full beard or longer stubble will look great on a bald guy!
19. An Edgy Ducktail – Beard Style for Bald Men
Another type of beard we have talked about are ducktails! It is a long beard that will help in lengthening your face. More precisely, create an illusion of lengthening it! This makes it perfect for men who have round faces! A ducktail is shaved and shaped to turn pointy at the end by cutting off a bit from both sides of the beard. The facial hair on the cheeks is also shaved off, to accentuate the pointy shape.
20. An Idea for Men Over 50 – A Simple Style
If you are over the age of fifty, why not opt for a simple and fully beard? You can keep it either short or long, but this is guaranteed to uplift your look! Keeping it simple is sometimes the best way to go!
We hope, that this collection of ideas for a shaved head with beard styles has inspired you! For other ideas, such as Men's Medium Beard Styles or Long Beard Styles, visit our website!
Advert