31. Marsala on the Wedding Invitations – DIY Wedding Invitation Cards
Over the past few years, the colour marsala, a deep shade of burgundy, has become extremely popular at weddings. Not only does it look good as decor, but it is a stunning colour to use for invitations as well. It conveys an old-fashioned, elegant and mysterious atmosphere. Try using a wax seal to close your envelope to make your invitation seem even more mystical.
32. Jigsaws – Creative and Unique Handmade Wedding Invitations
If you are looking for something truly unique and interesting, that will definitely bring a smile to your guests' faces, then look no further! These puzzle shaped DIY wedding invitation cards are a perfect choice. This wedding invitation will not only bring joy to your guests, that they have been invited to share the happiness of your wedding together with you, but they will also have a bit of fun piecing together to puzzle, to find out exactly when are where your wedding will take place.
33. White, Gold and Ocean Blue – A Fantastic Combination for your Wedding Invitation
Even though blue is not the warmest colour, it does bring a certain elegance with itself. Especially, if it's paired with a warmer colour. As you can see from the picture, gold and blue are a match made in heaven.
34. A Drop of Elegance – Handmade Wedding Invitations
Have you been dreaming of a refined, yet vibrant wedding invitation? Then this idea might just be the one for you. The stylised font creates elegance, while the surrounding leaves and flowers lend it a youthful atmosphere. These are truly beautiful handmade wedding invitations.
35. Refined Elegance – A Classic Wedding Invitation
The picture above speaks for itself, as it carries an aura of classic elegance. If you're not the sort of person who likes glittery glamour, then these simple, yet beautiful handmade wedding invitations might be the perfect choice for you.
36. Ornaments Made out of Wood – Great DIY Wedding Invitation Cards
Initials made from wood is a rustic, yet elegant way to style your wedding invitations. If you like organic materials, earthy decor and you are also planning on using wedding decor with a natural vibe, then this wedding invitation idea is a great choice.
37. Different Sorts of Leaf Patterns – Design Your Own Wedding Cards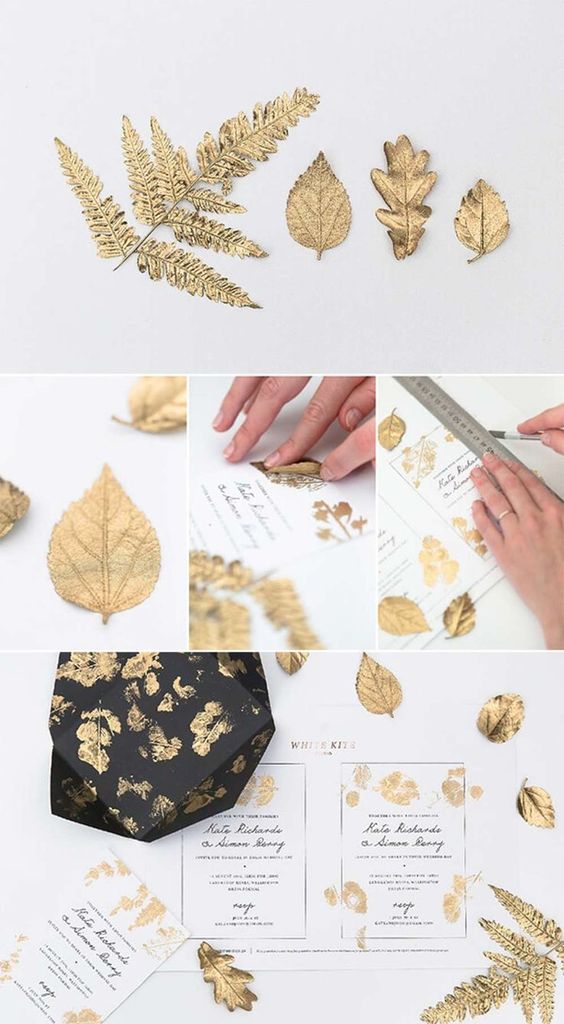 source
If you want handmade wedding invitations then try out this awesome idea. Leaf printing has become exceedingly popular in our modern day. You can use any sorts and as many leaves as you want to create an invitation with a great atmosphere.
38. A Glasslike Invitation – Enchant your Guests with this Wedding Invitation Idea
source
Another creative idea is making a glasslike invitation, which brings a newfound classiness to your wedding card. You can make this out of plexiglass or transparent foil. You can write, draw, paint and glue things on it. Of course, you can choose real glass instead, on which you can engrave information about the wedding. This is one of many great DIY wedding invitation cards.
39. A Rustic Impression on the Invitations – Handmade Wedding Invitations
Rustic style is becoming more and more fashionable at weddings. This style features natural ornaments and colours of the earth. So if you are planning a rustic wedding, then it's quite easy to surround yourself in natural, yet simple elements. Your personalised wedding invitation should reflect this ambience. Try using earthy, warm colours as a base. You can even tie a few pressed flowers or leaves to the card with a string. Try this idea out for your DIY wedding invitation cards.
40. Simply Lace – Cheap Wedding Invitations
If lace is going to be a dominant theme of your wedding, then use some as decoration on your wedding invitation. A great idea is using cake paper, something you can buy at practically any shop. You can use cake paper as an envelope. Cake paper comes in many colours, so you can choose the colour according to the theme and decor of your wedding. This is also a much cheaper option than laser cutting paper. This idea is truly a beacon of inspiration for DIY wedding invitation cards.
Wedding invitations can be designed in hundreds of ways. They can come in any shape, colour or form of your choice. You don't always need to stick to the standard choice of simple wedding invitations in an envelope. It's also a great feeling to design your wedding invitation! The main point is that your wedding invitation should create the same sort of atmosphere that you would like to see at your wedding. Remember that your wedding invitation is the first impression of the event. It's the best way to get your guests into the mood, already months ahead of the ceremony. Take your time to look through these 40 DIY wedding invitation cards listed above and let your creativity come out to play!
If you're looking for more ideas concerning weddings, then click here.