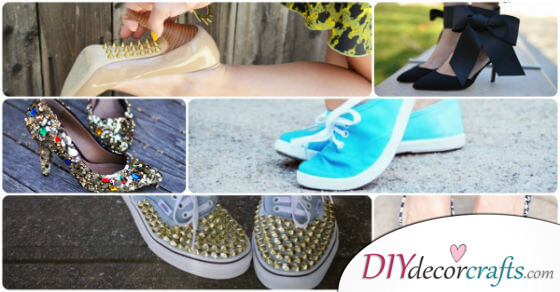 You can easily get bored of your shoes, even if you have so many shoes that you can't close the closet. All you need is to freshen up the old boots, using your creativity and some inexpensive materials. Check out the following amazing DIY shoes ideas and don't hesitate to try out these interesting ways to change your shoes beyond recognition!
A Touch of Romance
Very delicate and romantic shoes can be made with a bow and an elastic band of a suitable color. And here you can see a detailed tutorial.
Trendy Toes
Even the simplest flat shoes can become more fashionable if you paint the toe using gold spray paint. Learn more about the details here.
Pom-poms and Houndstooth
These simple steps will help you to not only add stylish pom-poms to your boring black shoes but also to change their color completely.
Disco Style
It's time to turn your blue sneakers into disco sneakers! It takes about 150 spikes and some craft glue to attach them to your sneakers. Don't miss the tutorial here.
Fast Transformation
Here is another great variant to transform your shoes.
 17 DIY Shoes Projects To Transform Your Boring Shoes