Costumes, hair, and makeup are fun and games, but if there's one thing you can't go without to any party or occasion on Halloween is a good nail art design! It's time to get creative and let your fingertips do all the work for you this Halloween! You can find a plethora of designs ranging from pumpkins, bloodied nails, fitting for a villain or a witch and so much more! These 11 Halloween nail art designs will blow you away!
To start things off simple, look no further than the Spooky Spiderweb Halloween nail art! Halloween costumes don't have to be limited to, well, costumes. Enhance your looks with this gorgeous and spooky design, perfect to get you into the spirit of the season. You can play with the colors, tailor it to your own style and personality. If you choose to recreate this unique and simple spider web on your own nails, just grab black nail polish, a white striper, and a top coat. You can also choose a different color if you wish.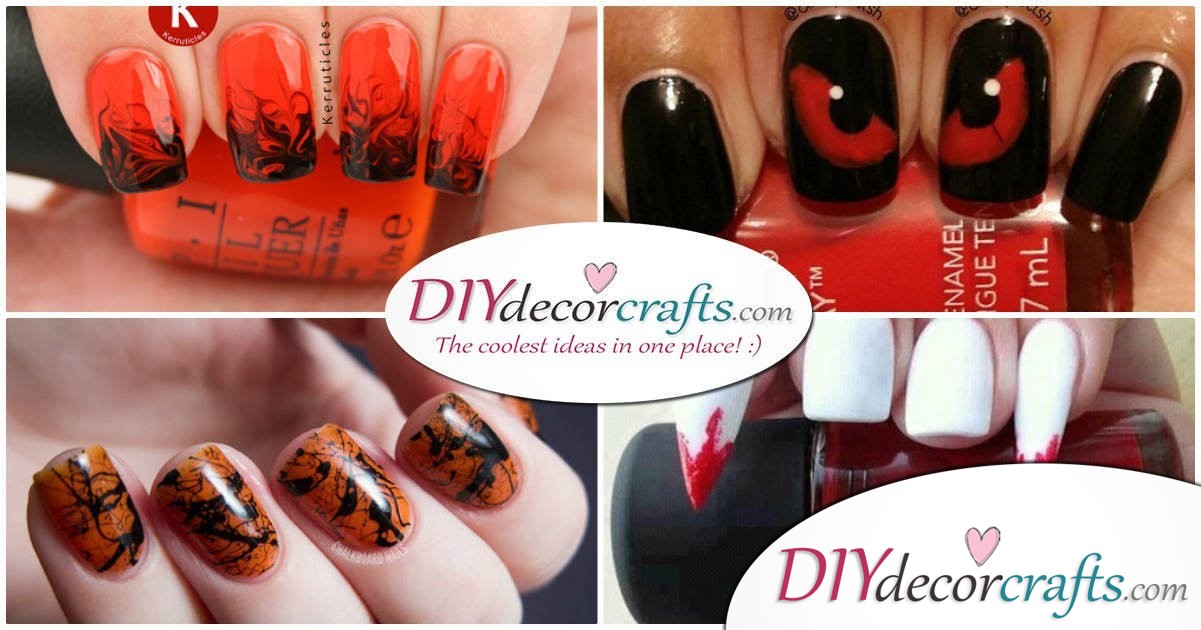 Adorn your nails with random splatters, that truly go with a chaotic nature of some costumes! The Spooky Splatter Nails are a bit messy at first, but the best thing about these nails is that it's very easy with a little practice! All the things you need are a straw cut in half, few colors to polish and wax paper. It can go well with just about any color, matches with any costume and is generally nice to master.

Easy to recreate and looks chilling, the Bloody Nail Art is perfect if you're going with a Bloody Mary or similar costume! You don't need anything other than a paper plate, a makeup sponge, and of course, red and nail polish. Dip the sponge in red polish, then tap it on your fingers, and using the same sponge. Then dip into the red polish and tap on the tips of your fingertips. Next, tap it with red again to strengthen the black look. Now all you need to do now is a dotting tool to make the blood look like it's dipping. Have fun!
Advert
If you want to go with a more classic look, choose the Jack Skellington Halloween Nail Art inspired by The Nightmare Before Christmas, a movie made by Tim Burton. Bring this beloved character to life with this simple guide! You will need a base and top nail coat, black and white nail polish and a nail striper. This nail art design doesn't use too many colors and is very simple, so it's perfect for last minute preparations.
Do you remember any Halloween party without a single vampire showing up? Yeah, me neither. But if you want to go with something unique, the Vampire Nails will definitely bring something new to the party. Transform your fingertips into something that captures the looks (and throats) of everyone that looks at them!
Transform not only your fingertips but also the space below the nails and become the Black Magic Wielder Witch or warlock you were meant to be! The symbol below the nails go perfectly with the black tone on top, and it enhances your looks to the max.
Imagine that you walk into a dark room and falling into despair and fear as you spot two red bloody eyes from a distance. Yes, with this amazing Spooky Red Eyes Nail Art you can bring that imagination to life – with you being the source. You don't need anything special, just a nail brush, three shades of nail polish and top and base coat.
Advert
Orange and black go hand in hand, and it's also the primary color combination of Halloween! It makes the Needle Drag the better. This imaginative nail art idea is thanks to the burning effect of having splashes of black being dragged into the orange with a needle or dotting tool. You only need an orange base with a black top coat to recreate this amazing design.
If you're feeling adventurous, and you're not afraid to scare your friends, consider using the following nail art
Integrate a bloody, gory and gutsy look this Torn-Up Nail Art Design this Halloween! This might be the perfect choice for you, if you plan to go with something scary-looking, that will horrify anyone that looks at your fingertips. You will need a fake nail, dark red and purple lipstick, eyelash glue and food coloring. But you can substitute the last one with polish instead.
The best motifs definitely have to be the skeletons and skulls. These delicate Skulls designs on this youthful and cute design make it quite eye-catching and worthy of your time. The black on white colors also suit for most costumes and stand out even in darkness.
If you don't like making a mess of your nails, this Pumpkin Halloween nail art will probably fit your tastes. Make unique Jack-o-Lanterns on your fingertips to help you get into the Halloween-y mood! All you need is an orange base and green and black striper and you're all set. Make yourself more enchanting with this amazing nail art!
Advert
Hope you found some cool nail arts that suit your tastes! If you liked our article, please make sure to share it on Pinterest, it would mean the world to us! :)
Find more spooky Halloween nail art ideas, crafts, decor and other Halloween related things 
here
!
Advert