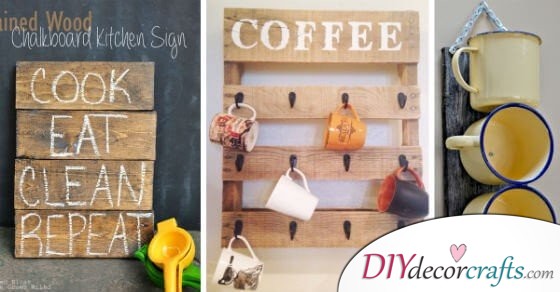 Kitchen is definitely one of the most significant parts of every house so no wonder that we often want to come true our dream kitchen. Now you can design your own kitchen from that cute little pantry to the storage jars, from the kitchen walls to the menu board. The following DIY ideas will give you a lot of inspiration!   DIY Pallet Coffee Cup Holder
If you are a die-hard coffee lover, you will adore this well-organized way where you can collect and hold your coffee cups!
DIY Details : onelittlebirdblog
DIY: Gold Painted Silverware Mason Jars
Create your own mason jars and you can hold all your silverware, spoons, forks and knives in some beautifully shining holders. Don't hesitate to have a look at the tutorial as well!
DIY Details : cleverpinkpirate
DIY Planter Box Picture Frame
This elegant, wooden frame with a winsome planters box at the bottom adds a lot more beauty and function to your kitchen. What's more, it is absolutely budget-friendly and super easy-to-make.
DIY Details : lizmarieblog
DIY Painted Bottles
These DIY Painted Bottles upcycle a few old bottles from your kitchen in the most beautiful ways ever, with the help of a few spray paints.
DIY Details : homeyohmy
 Design Your Own Kitchen With These Amazing DIY Ideas