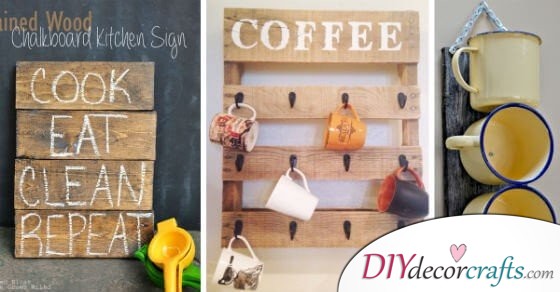 Kitchen is definitely one of the most significant parts of every house so no wonder that we often want to come true our dream kitchen. Now you can design your own kitchen from that cute little pantry to the storage jars, from the kitchen walls to the menu board. The following DIY ideas will give you a lot of inspiration!  
DIY Pallet Coffee Cup Holder
If you are a die-hard coffee lover, you will adore this well-organized way where you can collect and hold your coffee cups!
DIY Details : onelittlebirdblog
DIY: Gold Painted Silverware Mason Jars
Create your own mason jars and you can hold all your silverware, spoons, forks and knives in some beautifully shining holders. Don't hesitate to have a look at the tutorial as well!
DIY Details : cleverpinkpirate
DIY Planter Box Picture Frame
This elegant, wooden frame with a winsome planters box at the bottom adds a lot more beauty and function to your kitchen. What's more, it is absolutely budget-friendly and super easy-to-make.
DIY Details : lizmarieblog
DIY Painted Bottles
These DIY Painted Bottles upcycle a few old bottles from your kitchen in the most beautiful ways ever, with the help of a few spray paints.
DIY Details : homeyohmy
 Design Your Own Kitchen With These Amazing DIY Ideas
DIY String Bowls
What's great is that pulling off the bowls requires just a few supplies, including a plastic wrap, some bowls, jute twine, Mod Podge, a foam brush or bristle brush, and some spray paint.
DIY Details : homeyohmy
DIY Kitchen Pegboard
Here is an insanely cool storage solution that lets you hang those pots, kettles and utensils on the walls. This DIY Kitchen Pegboard is the answer to all your limited space problems.
DIY Details : abeautifulmess
Free Printable Pantry Labels
What a beautifully designed loopy these pantry labels flaunt, having everything hand-lettered with true prettiness.  Just print them onto clear sticker sheets, and they are decor-ready. You can find more information below.
DIY Details : thecreativityexchange
Herb Garden Old Kettle Style
Create a real vintage atmosphere with these unique kettles! Adding some potting soil and a little rustic touch to the kettles are all it takes to begin with the planting.
DIY Details : funkyjunkinteriors
 Design Your Own Kitchen With These Amazing DIY Ideas
DIY Menu Board
This DIY Menu Board will make that scheduling a lot easier, thereby getting the tables dinner-ready with much less of the trouble.
DIY Details : thesitsgirls
DIY Tea Towels – Love and Coffee
Let some plain and simple tea towels reflect your edible obsessions through a little touch of art.
DIY Details : cherishedbliss
Stained Wood Chalkboard Kitchen Sign
Do you like this chalkboard kitchen sign?  All you need to gather is some wood scraps, a stain, and lint free cloth, some chalk paint, a foam brush, chalk, mending plates and screws, and something like a hook to hang the board with.
DIY Details : cherishedbliss
DIY Rustic Wood Tray
This DIY Rustic Wood Tray is a must-make for all those who have got coffee as one of the most important parts of their lives!
DIY Details : lizmarieblog
Thank you for reading our article of "Design Your Own Kitchen With These Amazing DIY Ideas "!
Advert