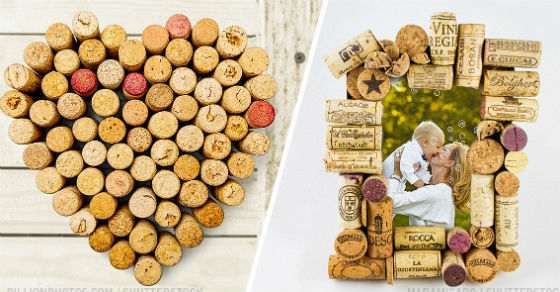 Don't hurry to throw your wine corks out, there are a lot of things you can make out of them that look nice, and can also be useful. Now you can check out 12 simple wine cork projects which will add some style and creativity to your home. So let's get started! 
A decoration in the form of a ball
As you can see a wine cork ball decoration simply looks stunning in a bathroom.
A heat stand
Corks can be really useful materials in the kitchen, let's turn them into a heat stand!
A jewelry organizer
If you need a cool jewelry organizer, don't ignore the following idea!
Stamps
Your kids will also adore these cute cork stamps! It's time to play! Of course, you can decorate birthday cards with them, too.
Advert
 12 Stylish Wine Cork Projects For Your Home
A notice board
Everyone needs a notice board at home. What about making this project come true?
Key rings
These unique cork key rings can be amazing gifts. What's your opinion?
Candle holders
It's never enough of candle holders, so this idea might come handy!
A photo frame
You can easily turn some wine corks into a photo frame!
Advert
 12 Stylish Wine Cork Projects For Your Home
A flower pot
If you would like to place your flowers and indoor plants into awesome spots, this idea is for you!
A doormat
Your dog will be very happy if you create a special doormat! What's more, it will add some style your home, too!
A wine glass coaster
If you often come together with your friends and love drinking some wine, you shouldn't miss project! Despite the fact that it's simple, it will look awesome and be useful.
A painting
You can create a beautiful painting from wine corks. What are you waiting for? Let's start it today!
Advert
Thank you for reading our article of "12 Stylish Wine Cork Projects For Your Home"!

Advert