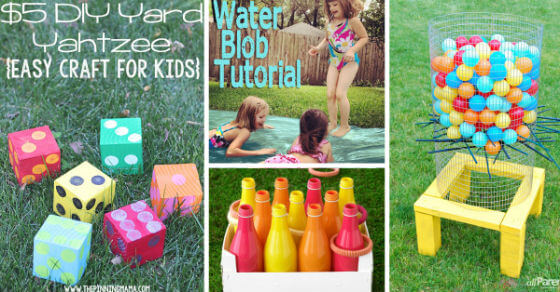 Those sunny warm days definitely call for some outdoor fun with the friends and family, do you agree with me? But these parties can't be complete without some cool outdoor party games. Check out 12 awesome ideas and build your DIY game setups at home! They are inexpensive, effortless to achieve and will delight young and old as well. 
Bubble Party : Human Bubble
It is said that bubbles are something that can take the kids to a little fairyland of their own. What about bringing a huge smile on their lips by making them stand inside an actual bubble?
Game Details : onecharmingparty
DIY Backyard Ker-Plunk Game
The supplies you need are some wooden boards, some screws, a drill, spray paint, wire netting, 18-gauge wire, wire cutters, some bamboo garden stakes, staple gun and staples, and ball pit balls. You can find the instructions below.
Game Details : allparenting
Backyard Jenga Tutorial
Are you planning to organize a family picnic and want something to keep the kids happy? Let them build a little tower made out of wooden blocks and have fun knocking it down!
Game Details : hollilong
DIY – Outdoor Twister
Invite some friends over and get it all twisting and turning!
Game Details : justusgirlsblog
 The Best Easy-To-Make And Fun-Filled Outdoor Party Games For The Family