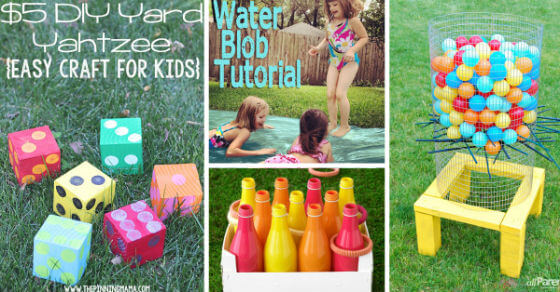 Those sunny warm days definitely call for some outdoor fun with the friends and family, do you agree with me? But these parties can't be complete without some cool outdoor party games. Check out 12 awesome ideas and build your DIY game setups at home! They are inexpensive, effortless to achieve and will delight young and old as well. 
Bubble Party : Human Bubble
It is said that bubbles are something that can take the kids to a little fairyland of their own. What about bringing a huge smile on their lips by making them stand inside an actual bubble?
Game Details : onecharmingparty
DIY Backyard Ker-Plunk Game
The supplies you need are some wooden boards, some screws, a drill, spray paint, wire netting, 18-gauge wire, wire cutters, some bamboo garden stakes, staple gun and staples, and ball pit balls. You can find the instructions below.
Game Details : allparenting
Backyard Jenga Tutorial
Are you planning to organize a family picnic and want something to keep the kids happy? Let them build a little tower made out of wooden blocks and have fun knocking it down!
Game Details : hollilong
DIY – Outdoor Twister
Invite some friends over and get it all twisting and turning!
Game Details : justusgirlsblog
 The Best Easy-To-Make And Fun-Filled Outdoor Party Games For The Family
Recycled Bottle Bowling
It's time to have endless bowling hours with your friends and family in your own backyard. Grab some empty plastic bottles, red and white paint, a tennis ball, and some paintbrushes to bring your DIY game to life.
Game Details : moonfrye
How to Make a Kubb Game Set
Blend the charms of chess and bowling together in one single game that will surely make you fall in love with your lawn.
Are you ready to start it?
Game Details : homedepot
DIY Outdoor Giant Dice Game
If you love easy but creative outdoor party games, then this idea is for you! Don't forget, the game of chance won't get over until the last dice have been tossed.
Game Details : diyshowoff
Pickup Bottle Game
Do you have a small space but want to arrange for a mini playground for the kids? Check out how the game is played!
Game Details : bhg
 The Best Easy-To-Make And Fun-Filled Outdoor Party Games For The Family
Easy DIY Rainbow Paver Hopscotch
Simply lay out a large sheet of red Kraft paper on your lawn, spray painting the tops with your favourite colours, followed by painting the numbers on them using a foam brush and some latex paint.
Game Details : happinessishomemade
Whip Up a Ring Toss Game with The Kids
Just aim the rings at the neck of the bottles, and win lovely rewards for every perfect toss.
Game Details : womansday
DIY Water Blob Tutorial
If the weather is hot, don't miss this fantastic game! Your kids will adore playing with it, so let's discover the following tutorial step by step!
Game Details : clumsycrafter
Mud Run Birthday Party
Welcome some mud, dirt and obstacles open heartedly. What a great twist for those who love the thrill of earthy adventures!
Game Details : ashleyannphotography
 Thank you for reading our article of "The Best Easy-To-Make And Fun-Filled Outdoor Party Games For The Family"!
Advert