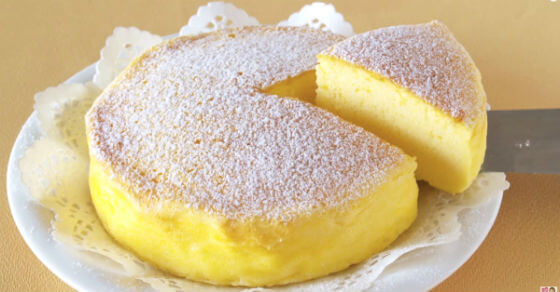 Advert
Are you in love with Japanese food recipes and adore easy cake ideas? Then this 3-ingredient cheesecake will immediately fascinate you! Don't forget, everyone gets a craving for sweets, but sometimes there's nothing in your house to feed the beast that is your stomach. That's why yo should check out the following recipe and grab those three simple ingredients.
This woman from Japan has shared a recipe for Souffle Cheesecake (also known as Japanese Cotton Cheesecake) from her very own kitchen. Believe it or not, in under five minutes, she will teach you how to make this cake with six servings. It might seem unbelievable at first sight, but it's true. Let's get started!
source
This dessert is very quick, easy, the texture and taste are like no other dessert. Now, you can surprise your family and friends with a mouth-watering souffle cheesecake anytime you'd like! The best thing is that it only requires three ingredients!
Ingredients you need
3 eggs
120 g (4.3 oz.) white chocolate
120 g (4.3 oz.) cream cheese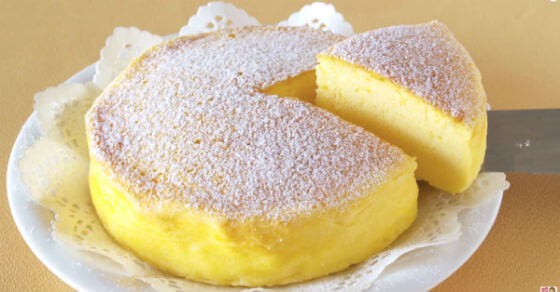 Are You In Love With Japanese Food Recipes? Don't Miss This 3-Ingredient Cheesecake
Instructions
First of all, separate the eggs and place the egg whites in a large bowl. Let sit the egg whites in the fridge. After that, preheat the oven to 170 Celsius degree (338F).
Place the white chocolate in a bowl and melt in a double boiler over hot water. Meanwhile, just whip 3 egg whites with an electric mixer until firm peaks form. If it's thick enough you can turn the bowl upside down.
Then mix the chocolate until smooth and add the cream cheese to it. Remove the bowl from the double boiler, add 3 egg yolks and mix well. Add 1/3 Meringue into the cream cheese batter and blend well. Then add the rest of the Meringue 1/2 at a time and mix well.
Rub some oil or butter on a parchment paper and line 15 cm (6inch) round cake pan. Pour the batter into the pan and bake in the oven. It will be ready after 15 minutes. You can dust it with some sugar power.
 Wasn't that easy? Let's share this idea with your friends as well!
Advert
Are You In Love With Japanese Food Recipes? Don't Miss This 3-Ingredient Cheesecake
What's more, here is a video tutorial where you can find really important tricks how to make your own Japanese cheesecake! Don't miss it!

Thank you for reading our article of "Are You In Love With Japanese Food Recipes? Don't Miss This 3-Ingredient Cheesecake"!
[afterpage]
Advert