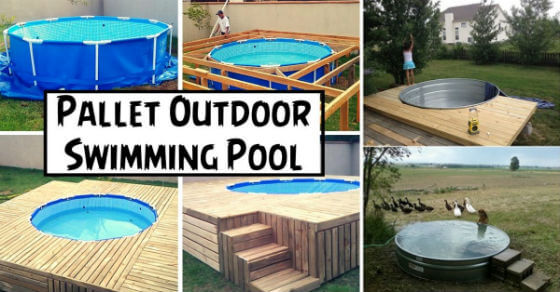 Summer is here so nothing can add the much-needed flair of freshness and comfort to your life than having an own swimming pool in your backyard! However, it might be expensive, but if you put some put some creativity, construction skills and patience to it, you can build an awesome pool. Here are 10 awesome yet easy to construct pool design ideas!
Galvanized Stock Tank Turned DIY Pool
This galvanized stock tank can keep the water super cool and fresh even during those hot summer afternoons. Follow the instructions below! ,
DIY Details : goodshomedesign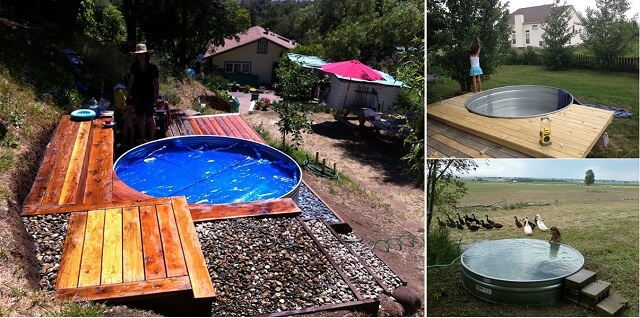 Pallet Outdoor Swimming Pool
Here is something that has not only got the luxury of a chilling and comfortable swimming pool perfect for the outdoors, but also comes with a lovely wooden deck raised about two feet high from the ground.
DIY Details : 101pallets
The Best 10 DIY Pool Design Ideas For Summer
2-Foot Dumpster to Backyard Swimming Pool
The end result will definitely leave you amazed! Check out the tutorial below and transform a 2-foot dumpster into a backyard swimming pool.
DIY Details : americanoverlook
Plans to Build a Swimming Pool with Pallets
Learn more about the visual plans in the below guide by DIY Pallet Furniture to recreate your very own versions of the Pallet Swimming Pool!
DIY Details : diypalletfurniture
Shipping Container Pool
Building a swimming pool at home all by yourself might seem a simple affair, but we often tend to forget the maintenance problems that follow with time. Find out more about this project below!
DIY Details : theepic.wordpress
A Step-By-Step Guide to Building a Natural Swimming Pool
Introduce a wonderful twist to the idea of creating a swimming pool for your backyard all by yourself, by letting things follow a close-to-nature route instead of all those tiles and concrete.
DIY Details : iseeidoimake
 The Best 10 DIY Pool Design Ideas For Summer
DIY Pallet Swimming Pool
Pallets have always been taking the world of DIY projects by a storm, bringing new life to your spaces with a pretty rustic wooden appeal. No wonder that we can't miss the following pallet swimming pool project!
DIY Details : sliptalk
DIY Concrete Swimming Pool
The construction calls for finalizing a design, reinforcing the steel structure, plastering and stacking, pouring the floor, working out the plumbing, and finally building the deck that has all been explained through detailed steps in the below Instructable.
DIY Details : instructables
How to Build a Natural Swimming Pool
This guide explains how to zone, filter, seal, and build your pool, along with controlling algae buildup in a manner that contributes to the environment in the best possible ways.
Build a Swimming Pool for Under $3000
As the name suggests, you can bring a homemade swimming pool to life for under three thousand dollars. Watch the video below!
Project source – youtuber:  Gerry Wilson

Thank you for reading our article of "The Best 10 DIY Pool Design Ideas For Summer"!
Advert