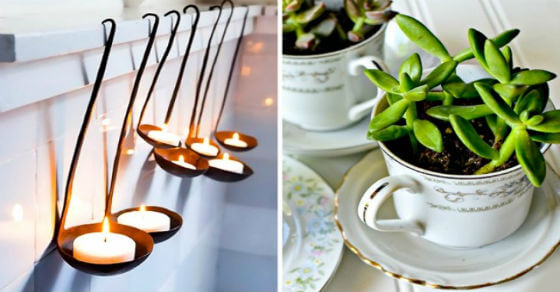 Try out a more imaginative approach before you throw away your old unusable soup ladles, rolling pins, cheese graters, and other kitchen utensils. You will soon realize that even the most seemingly useless items can often serve as a base for new, original, and functional things. Let's discover 18 unique ways and give new life to your old kitchen utensils!
Turn your old coffee pot into a cute terrarium. It's so much fun! There is no doubt that a set of thrift store teacups can become a classy wall clock. Create a fancy bird feeder on your own!
Still have few leftover teacups? What about making a t
eacup chandelier?
Just drill a drainage hole, and voilà! Your new flowerpots are ready.
Colorful teacup candles will create a magical and cosy atmosphere. What's more, they are perfect gifts as well!
 18 Ingeniously Creative Ways To Give New Life To Old Kitchen Utensils