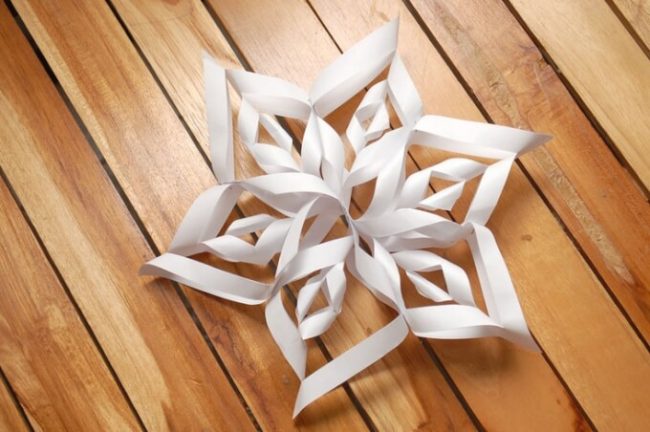 Advert
Do you always marvel at lovely 3D paper snowflakes, but you don't know how to make them? At first sight it might seem really difficult, but to tell the truth, it is definitely easier than you think! This breathtaking decoration will create a perfect winter atmosphere in your home. Let's check out the steps!
Ingredients
6-7 pieces of paper ( you can use simple white copy paper, but of course, other kind of paper also will do)
scissors
clear tape
stapler ( you can use glue, if you don't have a stapler)
Instructions
After gathering the materials, fold the pieces of paper in half, then repeat it diagonally. You can cut off the rectangular edge , if your triangle isn't perfect. One thing is sure, you need to finish with a square folded into a triangle.
After that, cut 3 lines in the triangle. Cut the paper along the bottom fold, your cuts should be diagonal. You mustn't cut it all the way up, just as you can see in the picture. Moreover, it's important to keep the same distance. Thicker paper is not suitable.
Then unfold the triangles again. You should just simply turn them, you can see the example below.
Form tubes by rolling the first two innermost paper lines together. Fix these two pieces together with your clear tape.
Turn it over to the other side  and after that take the other 2 paper lines, pull them together on the opposite side of the tube. This will be wider and more rounded shape.
Keep this step going, turn and join the paper lines together.
Repeat these steps! You should have 6 pieces of them.
Join three of the rolled pieces together with a staple, repeat it with the other 3 pieces. Your 3D paper snowflakes are almost ready!
Finally, staple the main 2 pieces in the middle. Don't forget, you should also fix them where the 6 "arms" meet.
Your super-easy fascinating 3D paper snowflakes are ready, and they will soon become your favourite handmade winter crafts!
In addition to preparing 3D paper snowflakes using the procedure above, you can also create them using a
3D modeling software
, then print using a 3D printer after generating the G-Code (3D printable format) using a Slicer. The advantage of 3D modeling is that you can create the paper snowflakes in different colors and materials and making adjustments too is easier.
Thank you for reading the article "How To Make 3D Paper Snowflakes"!
[afterpage]
Advert