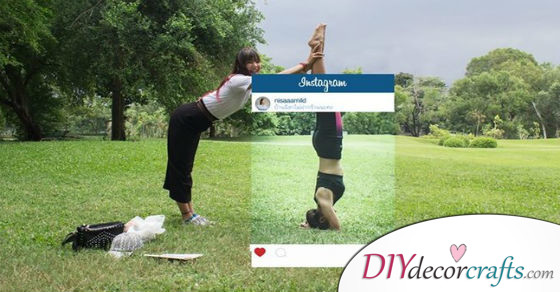 Instagram is a popular social network and an awesome platform for people who want to become famous with their outstanding photos. You have probably scrolled through those seemingly perfect photos on Instagram and said:"Why doesn't my life look like that?" Well, you can also do it, you just need to be creative! Let's discover some fascinating Instagram pictures! 
This collection can be your first lesson in photography and if you have a closer look, you will see that it is lack of objectivity. It is an idea from a Thai photographer Chompoo Baritone, who recreates Instagram pictures to reveal what's really happening beyond the square.
Her reimagined photos include some real-life clutter. What an amazing idea!
creative Instagram pictures
 These photos are so simple that you can even copy this trick. What about trying it out?
What's more, she includes some awkward bystanders in her shots, who seem to be wondering why on Earth someone would take a picture there.
Along with several other Instagram photographers, Baritone pokes fun at the way some people use Instagram and other social media platforms to make their lives seem much more beautiful than they really are.
Believe it or not, this project is a study in how we carefully edit our experiences to be attractive and palatable to others.
Sometimes the background is much more interesting than the "essence" in the middle of the photo.
People fill the photo with life around the girl.
Baritone is currently studying photography at King Mongkut's Institute of Technology Ladkrabang.
She's relatively new to creating commentary through photography, but if these pieces are any indication of what's to come, we're excited to see where her vision goes from here!
Thank you for reading our article of "Discover Some Perfect Instagram Pictures Which Will Definitely Amaze You"!
Advert