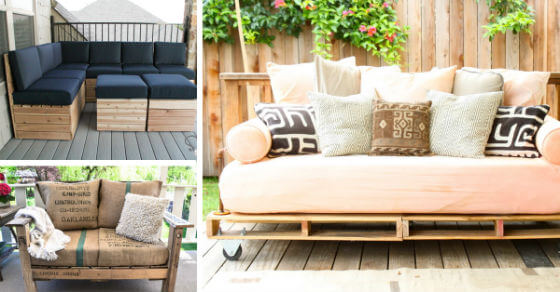 Decorating and furnishing your patio is not an easy task, but it's not impossible! According to many people, a patio is one of the most important rooms in your house, so it's time to turn it into your little piece of Heaven where you can retreat. No matter if you have a fully enclosed, a partially-open or an open-air patio, you can find here many pallet patio furniture ideas with step by step guides. Lovely Corner Furniture
This lovely corner furniture set consists of two chairs, a corner bench, and a generously spaced table. If you have some extra pallets at home, recycle them in an efficient, eco-friendly and functional manner. Always clean them and remove all the debris and dust, then apply a fresh, thick layer of paint.
Source and DIY tutorial – sassy-sparrow
Complete Pallet Furniture Makeover
There is no doubt that this one will add liveliness, freshness, and joy to your patio! Colorful pillows, blankets, and carpets will make it look like high-end designer furniture!
Source and DIY tutorial – placeofmytaste
Pallet-Based Day Bed For Your Patio
This day bed is multi-functional and it is great for a variety of purposes. Here you can perfectly recharge your batteries or read your favourite book.
Source and DIY tutorial – lovelygreens
Pallet Wood Chair
Do you like those classic, country-style armchairs or reclining chairs? You can make your own with several old but still good pallets, just check out the tutorial below.
Source and DIY tutorial – funkyjunkinteriors
 12 DIY Pallet Patio Furniture Tutorials For A Practical Outdoor Patio