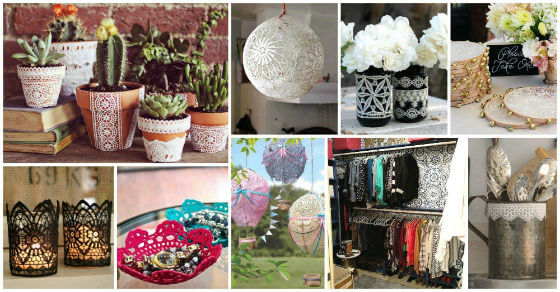 These colourful and white lace ideas are fantastic, very easy and quick to make. So if you would like to create an awesome decoration at home or surprise someone with a lovely present, don't miss this article! Enjoy and have fun!
Wrap the gifts with this unique material for more romantic look
This simple idea is not only for those that are in love but for everyone.
Make a crown for your little princess
Let's make your little daughter look like a princess with a lace crown!
Make your simple white curtains more interesting with black lace
Lovely DIY Lace Tambourines
 12 Amazing DIY Projects to Make With Colourful And White Lace
Embellish the mason jars with a piece of lace
You can make your home fresh and airy with some flowers. Lace mason jars are perfect vases, so let's bring the nature in your home.
Refresh your simple notebook easily
These interesting and fun air balloons are made of lace
Beautiful red lace necklace for all accessory lovers
Do you love unique necklaces? You can make your look more enchanting with this "very easy to make" necklace.
 12 Amazing DIY Projects to Make With Colourful And White Lace
Improve the ambiance in your home with candles
Embellish your simple candle holders with elegant black lace.
Marvellous DIY earring holder to make right now
Now you have found the perfect place where you can keep your earrings. What a lovely craft!
Made a cute jewelry storage easily and quickly
Don't wonder anymore where you should put your jewellery you wear every single day. Take a look at the idea below. It is amazing!
You can make the cheapest flowerpots look outstanding with pieces of lace
Use your creativity and beautify the pots in your home, balcony or garden. This is a great idea to make your space look more elegant and chic.
Thank you for reading our article of "20 Amazing DIY Projects to Make With Colourful And White Lace"!
Advert