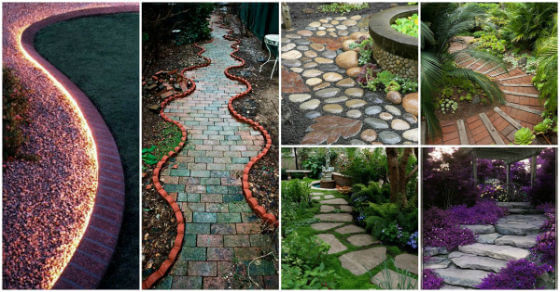 Stone walkways give your garden a sense of completeness, charm, dimension and mark the safe places in your garden to walk. There are many garden path styles and it is up to you to determine which style fits your garden best. Discover 10 of the most breathtaking stone walkway ideas!
As you can see, some take much more effort, time, and expense than others. For instance, mulch and gravel paths are inexpensive, but brick and stone are more durable. There is no doubt that stepping stones add charm while mosaics add beauty and elegance to your garden, however, they are incredibly time-consuming.
Learn more about garden paths and find the perfect match for your own garden here!
It is said that when  you are decorating your garden be as creative as possible. We should incorporate everything that nature has given us, just think of shapes and sizes. What's more, try to collect many different stones to make a wonderful mosaic stone pathway. Here you can collect some inspiration!
If you would like to create a mysterious but lovely atmosphere inyour garden, make rope and wood fence beside your stone pathway.
Make stepping stones that go up to your seating point if your garden is on a hill. The example below is a charming purple garden that is decorated with amazing stepping stones.
 There is no end to the creativity in gardening. Use your imagination and make your dreams come true in your garden!
These little squares make this stone walkway special. What's more, colorful flowers also look lovely in this photo.
 In the following example, there are beautifully shaped leaves that make the whole picture of the garden adorable and unique.
Thank you for reading our article of "10 Amazing Stone Walkways That Will Steal The Show"! Hopefully, you have found great ideas on how to redecorate your dream home with something cool and creative.
Advert