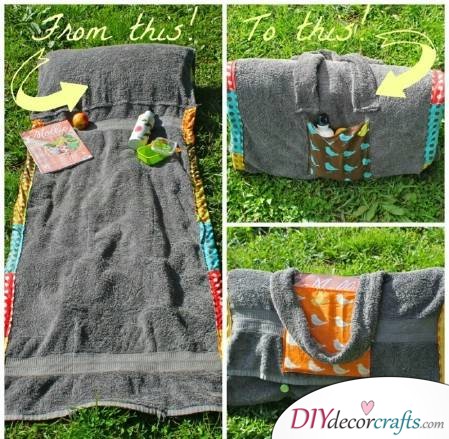 It's the summer, and we all love it, but the heat and the sand can sometimes get in our way of having fun. But that can all change with these life hacks!
We collected 7 Essential Summer Life Hacks Everyone Should Know! How many did you know before reading this article?
1. Beach Bag Towel Blanket
This creative project can save you a lot of time by combining a towel, a tote and a blanket all in one. Whether you're going to the spa or the beach, this will be the perfect accessory.
2. Keep Ice Cream Soft
Do you hate it when ice cream gets hard and stiff? Just put the container in a Ziploc freezer bag, it will save you the headache.
3. Easy Way To Cool Sodas
Don't you just hate it when you want to drink a cold soda, but it's warm? We all hate to wait hours for it to cool down, so why not just use a little life hack and physics to do the job for us?
4. Keep Your Straws In Place
Now that we showed you a way to easily cool down your drinks, but what about drinking them? Just put a straw through the tab, so it won't rise out or flap left and right!
Advert
5. Portable Air Conditioner
For the low price of $8, you can make your own, portable AC. Maintaining this thing won't cost you any serious money either, just a few bags of ice-cold bottles filled with, well, ice!
6. Mosquito Bite Treatment
Mosquitoes are one of the reasons why I, personally can't stand the summer. But with this cool and simple solution, just apply some toothpaste on mosquito bites, and it will prevent the itching.
7. Keep Your Phone Clean
Put your phone in a sandwich or a Ziploc bag to prevent it from getting sand or any moisture on it
Hope you liked our collection: 7 Essential Summer Life Hacks Everyone Should Know!
Make sure to share your favorites in the comment section!
Advert