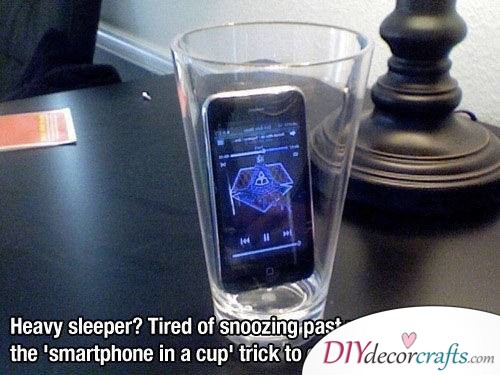 There are a lot of things in life that can give us headaches, but there are also a ton of things you can do to make it easier!
Here's a list of 10 Everyday Life Hacks That Will Change Your Life! Let's begin!

1. Phone In A Glass
Are you a heavy sleeper, and you can oversleep easily? Put your phone in a large (empty) glass before going to bed, the alarm will make a big noise and wake you up without a doubt

2. Peel A Banana The Right Way
I know it's not always the best idea to take inspiration from monkeys, but this made peeling bananas for me much easier. Also, your friends might make fun of you, just make up a story that it's a scientifically proven better way. It will be a laugh. :)
3. Waterproof Shoes
Do you live in an area where it rains often? Why not apply some beeswax to make it waterproof?

4. Mosquito Purge
Do you hate mosquito swarms in the summer? Just grease a large bowl with oil, and see what happens.
Advert

5.Shirt Ironing
Ironing can be a pain in the back, but not with this trick! If you have lots of button-up shirts, just flip them inside out so you get behind those pesky buttons.

6. Funny Way To Bake Cookies
Do you live in a hot state like Arizona? Use your car to save some money! It will also make your car smell (and feel) like an oven.

7. Keep Your Pizza Fresh
If you ever had to reheat pizza, and you used the microwave, you probably felt that it was different, not as fresh when it first arrived. Just put in a glass of water next to it, it will keep it from getting chewy.

8. Cutting Cherry Tomatoes In Half
Put two plates together to make cutting cherry tomatoes easier. Just run the knife through in the middle one time and you can save a lot of time.
Advert

9. No More Tears
I've always hated making anything with onions because they make my eyes teary. To prevent this, just chop the end pieces off and soak the onions in cold water for 30 seconds to a minute. Trust me! :)

10. Nice Smelling Dirty Laundry
Do you live in a dorm, or you travel a lot and have some dirty laundry? This can help make the clothes smell nice and clean. Just put one scented soap in the same space where you keep your laundry, it will keep them from smelling bad.
Hope you found our collection: 10 Everyday Life Hacks That Will Change Your Life helpful!
Make sure to share your favorite ones in the comment section! How many of these did you already know?
Advert