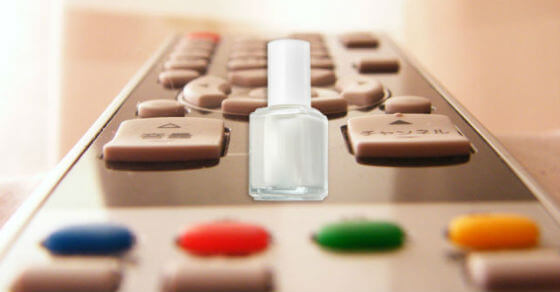 Advert
Nail polish is an awesome invention, but did you know that is has much more advantages? Believe it or not, you can use it almost everywhere if you would like to fix things. Are you curious about the details? Check out the best DIY nail polish hacks!
Don't lick tons of envelopes, just seal them with some nail polish. It will work! If you would like to turn smooth rock into beautifully customized, add some little lacquer.
You can perfectly keep your costume jewelry from discolouring if you apply clear nail polish.
Nail polish can make your old necklace look like new.  What about trying this hack out?
It might be weird, but some people use clear nail polish to get rid of stubborn warts.
Can't see the buttons on your remote in the dark? Don't hesitate to paint the important ones with some glow-in-the-dark polish.
 18 DIY Nail Polish Tips Not Just For Pretty Fingers And Toes
Easily thread a needle by dipping the frayed end in some polish. Roll it between your fingers and it will go through without a fight!
Clear nail polish will secure a loose button.
It's an ordinary trick that women often stop a run from getting worse by applying some clear polish to the trouble spot.
Stop the fraying damage in your clothes from getting worse with a touch of clear lacquer.
You can easily keep a windshield crack from spreading by putting a small coat of clear polish on it.
If you coat the tips of your matches with some clear polish before heading out for a camping trip, it will prevent any water damage. What's more, it won't stop them from starting a fire.
 18 DIY Nail Polish Tips Not Just For Pretty Fingers And Toes
When you finally land on the ideal temperature in the shower, mark the spot with some polish so you never have to search again.
Let's make a marbled coaster in the same manner!
Keep track of which key goes to what by colour coding them with some polish. One thing is sure: this simple hack will make your life easier!
You can make adorable bobby pins when you paint them with a few colours.
Paint the bottoms of your shoes with a fun colour.
Thank you for reading our article of "18 DIY Nail Polish Tips Not just For Pretty Fingers And Toes"!
[afterpage]
Advert