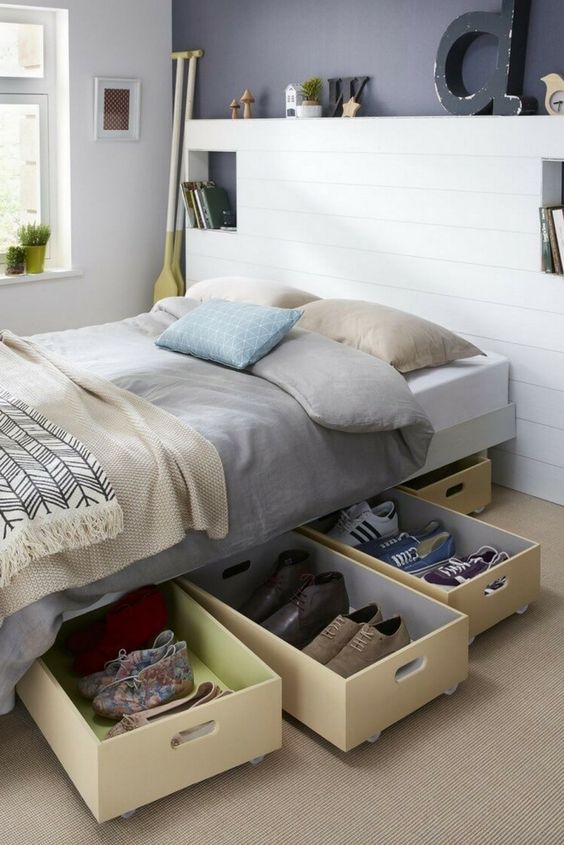 Your home is your happy place. It is the space where you live, love, laugh, and are cared for. It is your haven and comfort zone. However, in the struggle to balance your personal, social, and professional life, maintaining and organizing your home sometimes becomes a challenging task. Clutter such as clothes piling up, books and equipment lying around, is unavoidable when you live with kids. In the worst-case scenario, your home turns into a complete mess where things get lost and misplaced. It is better to put your foot down before things start to get out of hand.
An organized home has a significant impact on your life. After a long and tedious day at work, the sight of a clean and organized home is enough to freshen you up. Sure home organization takes time and effort, but trust us that the result is worth all the trouble. You can also explore some clever home organization ideas and hacks to help you in the process. Try the following seven smart storage solution ideas to keep your home organized.
1 Make Your Wardrobe Visible
A very basic yet very effective home organizational hack is to sort your wardrobe. Start by decluttering it and giving away everything that you don't want or don't wear. Next, store all your clothing articles on a priority basis – placing items that you frequently wear nearest and occasional ones farthest. It also helps to keep your wardrobe visible instead of hidden behind cupboard doors. Invest in some clothing racks and hang every article you own in plain sight. Doing so forces you to keep your wardrobe neat and organized instead of lying in heaps and balls inside your closet.
2 Rent a Self-Storage Unit
All of us have some items at home that we rarely use. These include seasonal clothing, holiday decorations, vacation items, sporting gear, etc. Of course, keeping them all in your home will limit your storage space. Instead, you can rent a storage unit to store all the items you don't need regularly but are unwilling to part with. Such units are commercial setups that work like a vault that only accessible to you. They have reinforced doors and a comprehensive security system to keep your stuff safe.
3 Use Rain Gutter Shelves for Storage Purposes
Rain Gutter bookshelves are all over the web. Here's why, they are cute to look at, cheap, and very easy to make. If your little munchkin is a bookworm, you can make some space for his or her reading nook and organize all reading favorites on them. They are awesome because, unlike regular bookshelves, these display the book's cover instead of the spine. Collect all the story and picture books lying around your home, and creatively display them.
4 Use Wickerwork Baskets to Work as Extra Storage Space
Wickerwork baskets come in a variety of shapes and sizes. You can use some deep, rectangular ones for storage purposes. The most obvious way to do so is to place a lidded variation on the floor or somewhere near your bed. They are great for holding blankets, towels, and sheets. Perhaps, this way, they will be neatly tucked out of sight, making your room less cluttered. The basket will serve as both a storage and a home decoration item.
You can also hang them on the walls to store everyday items like remote controls, magazines, glasses, etc. They also work well inside bathrooms to hold all your bath supplies, making them look clean and more organized. In kids' rooms, they are ideal for storing toys. It is an excellent technique to teach them home organization.
5 Use Binder Clips
Binder clips are office or workspace essentials. However, with most of our documents going digital, these useful clips are uselessly lying around. But hey! You can use this genius invention to organize your stuff at home.
We all understand the pain of detangling earbuds that keep getting tangled. You can use a binder clip to keep them detangled and organized. How? Clasp the buds with the clip and roll the wire safely. This hack keeps them ready to use and potentially increases their life.
6 Use Rolling Shelves
Homeowners try to maintain every nook and corner of their place in top shape. But the one space they usually forget is the garage. Other than keeping the car, your garage also serves as the primary storage space for you. From car repair tools to sporting gear, you store everything inside your garage, making the place a huge mess. Using a rolling shelf in your garage allows you to organize all the stuff you have in your garage. This way, it will not only be in plain sight but also easier for you to access. Moreover, with the convenience of wheels, you can conveniently move them around as well.
7 Use Wall Mounting Wire Racks and Baskets
Wire racks and baskets are excellent for storage purposes. Their wall mounting counterparts are especially useful for home organization. You can hang some up in your kitchen to store fresh fruits and vegetables. It will keep them more accessible for you and your family.
You can also use wire racks to organize your mail. Sorting things through the entire piles to find the ones you need at the moment can be a daunting task. For example, bills are the mail that usually requires immediate action. However, these items, when kept separate from other correspondence, help you find them easily afterward.
The Bottom Line
An organized home works like a breath of fresh air after a long day at work. Yes, it takes time and effort, but in the end, it is all worth it. Above, we have listed the seven smart storage ideas to keep your home organized. They are cheap and easy ways to reorganize your home in just a few minutes and keep it that way for a long time. Try them today and keep the clutter at bay.
Advert