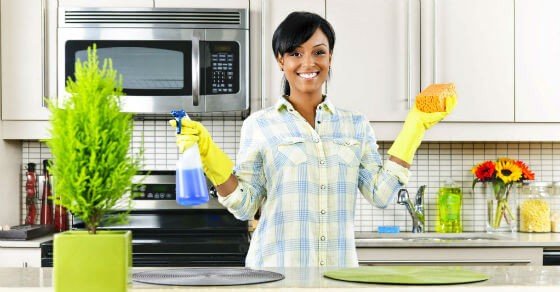 Are you trying to decide whether to start having your home cleaned professionally? If you're asking the question then there's every chance that the answer is yes, but we can walk you through the process of how to decide whether a regular home cleaner is the right thing for you.
It's simple really. There are about five key ways that things will improve once you do get a regular cleaner – and they extend well beyond just having a pristine home! That's a big part of it of course, but you'll find benefits you hadn't even thought of once you start leaving the cleaning to a professional.
There are plenty beyond this list, but here are just five of the ways your life will improve once you've got a regular home cleaner…
1, You get your own time back
Hiring a professional home cleaner means that you can feel confident about the state of your home while also being able to spend time on the things that are important to you. Once you engage a cleaner, suddenly you've got time to spend on whatever you choose. Maybe it's cooking healthy meals for your family, maybe it's planning – and doing – new adventures, or maybe it's just claiming that all-important down time that we so often go without.
In our busy lives we rush from one thing to the next, trying to fit in all the things we think we should be doing. Having spare time is a luxury. Many people now don't actually see engaging a cleaner as just a way to make their home look amazing – instead they see it as simply buying back some time. Time they get to spend on things they'd rather be doing.
2, Energy!
Instead of starting your Saturday with a housework to-do list, start your Saturday with a clean house and the energy to do something fun! So often we have to start the weekend just trying to get back on top of the build-up of housework. By the time midday rolls around you're drained and tired and you don't have anything left in the tank to do the things you want to do. This is one of the key things that gets instantly better once you hire a regular house cleaner! After all, don't you want to be spending that energy doing things that are meaningful for you?
3, Say goodbye to those feelings of overwhelm
You know that feeling. When you know your house is getting out of hand, but you also know that you won't be able to get it all done in the time you have. It can easily start to feel overwhelming when you just don't know how to solve the problems in front of you. What's more, living in amongst mess and clutter is known to be anxiety-invoking.
Having a regular cleaner can change this for you in two ways. Firstly, your house never has time to get that unclean anymore! Imagine! And secondly, even when it does get messy you always know that it's only a matter of days before your cleaner will bring it back to looking pristine again. There's always a light at the end of the tunnel when you know your bathroom will be sparkling again and your kitchen will be gleaming.
Don't get caught up thinking it's all about the aesthetics though. It's also about knowing that those key areas of your home are clean and hygienic to start the week ahead. This makes for a healthier – and happier – week for everyone.
4, You don't have to panic – or do a giant cleaning session – every time you want to have someone over to visit
You can be houseproud! No more do you have to panic at the thought of visitors, and no more do you have to make time for a clean-up before having people over. Nothing takes the fun out of entertaining like feeling under pressure to make the house spotless. Running around last-minute to get ten things done isn't the way it should be. What's more, if someone drops in unexpectedly, you don't have to worry about whether the bathroom is up to scratch or whether the kitchen looks okay. Instead, you can relax and enjoy all that new time you have for your social life.
5, You broaden your practical support network
Everybody needs a support system, right? Sometimes it's family, friends, a club or group, or all of those at once. Sometimes – in fact a lot of the time – it's practical help. Think about it – you call on a taxi driver when you need help getting somewhere. You call on a plumber when you need help fixing a tap. Cleaning is just the same thing. Connecting with the right home cleaning company means broadening your support network so you know who to call when you need some extra help.
6, Your house is cleaner!
Ok so it's really a list of six things, not five! Last, but certainly not least, is this: you know your house is going to be cleaned to a professional level, every time. The peace of mind that comes with this is really significant. Find a company that will customise their cleaning to what you want so that everything you want done is being included. Good professional cleaners like Pristine Home will always make sure that your place is glistening, and they'll always make sure you're happy with everything. What more could you want?
Once you've decided you need to engage a professional home cleaner, it's important to make sure you find the right company. Needless to say, there are a lot of companies out there but they're not all as good as each other. Choose a well-established company that has great reviews. That way you know you're going with someone you can trust, and who cares about their customer's needs. Take a look at what they offer and how easy they are to book with so that you know that the booking process will be straightforward and efficient. Then, step back and enjoy all the ways life improves once you have a professional home cleaner!
Advert