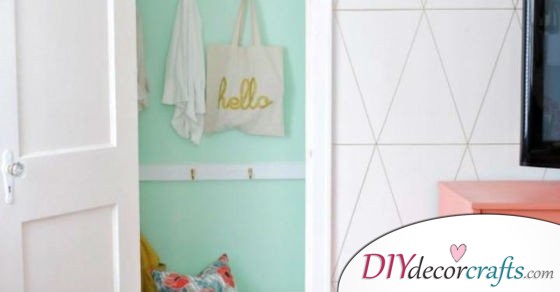 Have you ever realised that there are few things that a little paint can't fix? This idea works almost everywhere just think of your boring walls or old table. If you are looking for an inexpensive home decor, don't hesitate to check out this article: the weirdest and most genius spots you can paint and make your home awesome! 
Yes, it's true: you can make your window even brighter with a brush of yellow.

source
There is no doubt that an all-white kitchen is nice, but what about popping of colour inside the cabinets? It's arguably way more fun.

source
It's time to make a good first impression by giving your doorbell a new look. Let's fascinate not just your neighbours, but your visitors as well!

source
Have a smile on your face every time you open your desk. Say goodbye to boring drawers!
Advert
source
inexpensive home decor
In fact, decorate the drawers of just about anything and it's instantly more exciting!

source
Your wardrobe is another optional choice you can make awesome with some painting.

source
This 10-minute tutorial subtly changes the look of your door. It's a good example for that sometimes you should make small changes to have a fascinating outcome.

source
Frame a canvas with a pop of colour for a fun look from every angle.
Advert
source
inexpensive home decor
Vintage trunk on the outside, party on the inside!

source
Here is a super way how to display your china in style.

source
It's a general truth that women adore closets. Let's make your coat closet a thing to show off, not hide.

source
Give everyone something to look at when they're walking through your halls. You can make your simple bookshelf unique with a simple trick. Just grab your paint brush and be creative!
Advert
source
Thank you for reading our article of "The Best Inexpensive Home Decor Idea: Just Grab a Paint Brush!"
Advert