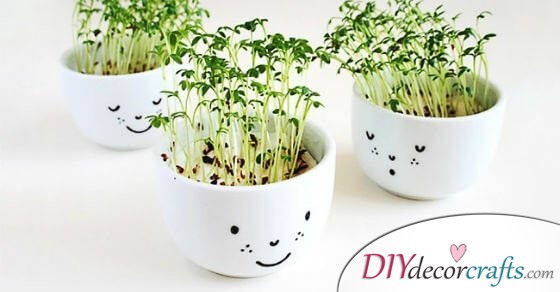 Are you interested in DIY crafts? If you spend a little time, you can create them yourself, and in doing so you'll be sure to cheer yourself up! What's more, when you see these crafts to do at home, your cute-ometers will be going off the scale!
Let's make your own cute little garden. Grow some herbs at home and smile as you watch it grow.
First of all, take a cup, a marker, a cotton pad and some seeds.Then follow these instructions.
Those who miss winter can like these tiny safety pin skates.
They can be lovely gifts or you can use them as a decoration. The instructions can be found here.
You can use any spare wool you have to make this super-cute hedgehog pin cushion.
Click here for more information!
You can make a cute top out of even the most simple pullover.
Create these exquisite cat shoes out of any old pair — and they'll be purring with every step you take!
Find out here how to create your own cat shoes!
Get yourself into a celebratory mood by creating these party hat earrings and necklace.
The instructions can be found here.
 20 Incredibly Cute DIY Crafts To Do At Home