Christmas is almost here and everybody wants to surprise their loved ones. Mothers and grandmothers especially adore handmade gifts, so this craft would be a good choice, that's for sure! Check out how to make a marble dipped mug! You only need just a few ingredients and it doesn't cost a lot of money.
Ingredients
white ceramic mug
nail polish
wooden toothpicks
water (warm water is the best)
bucket (it will get a little bit ruined)
nail polish remover
cotton balls
Instructions
First of all, fill your disposable bucket or pan with warm water. You can add more water if you would like the color to reach high on your mug.
After that, add the nail polish! You should just simply pour it onto the surface of the warm water. If you would like to make a colourful marble dipped mug, add more nail polish. Try out different colours, it will be a lot of fun!
Use your toothpick and swirl the nail polish, so it helps you to create the amazing marble effect. Don't overcomplicate this simple process, work quick  and your nail polish won't set up on the water. Use your imagination, and play with colours and patterns.
The next step is the most exciting part of the project: dunk your mug into the water. Firstly, you should go straight down and after that straight up. Dry your mug completely, be careful, don't ruin the surface of your marble dipped mug. You can put it on a top of something (for example, toothpicks will do) so it won't stick to the table.
If you would like to make more mugs and change colours, you should dump the water and start it over. Finally, you can protect your mug, use dishwasher safe ModPodge.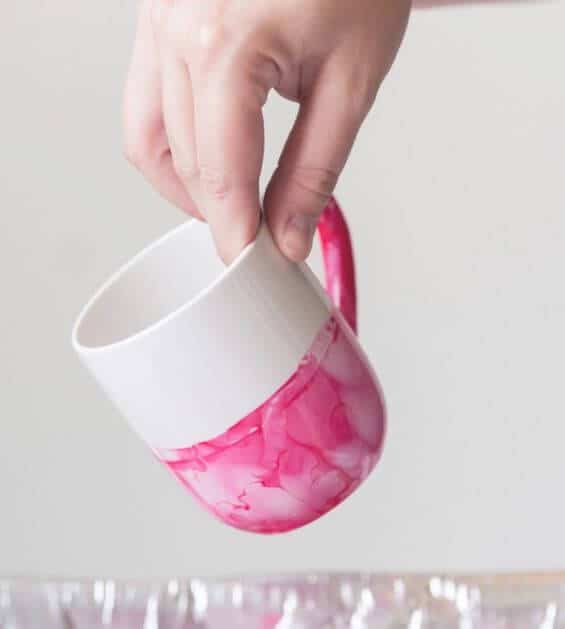 Thank you for reading the article of "The Perfect Handmade Christmas Present: A Marble Dipped Mug"!
source of photos: Pinterest