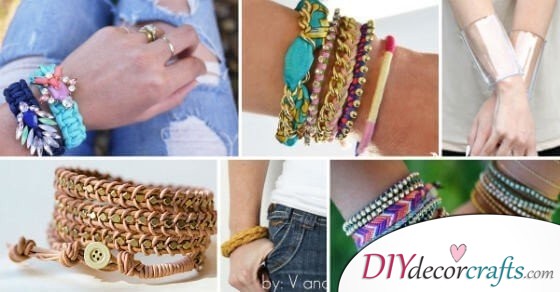 Every woman has her own and unique personal style, so your bracelets can make or break your entire attire. No wonder that some ladies simply have a difficult time finding a bracelet that meets her needs and tastes. Here you can discover 30 awesome jewelry making ideas and hopefully you will find your favorite bracelet project! 
DIY Wrap Bangles
These are some simple, super original and cheap bracelets that you can easily make yourself. If you are a hippie/bohemian girl who loves to dress casually, these DIY wrap bangles are for you!
See the tutorial: here
Paracord Bracelet
Don't forget, you do not need to invest in outrageously expensive high-end materials to have stylish bracelets. It looks elegant and you can wear it every single day, not just on special occasions.
See the tutorial: here
DIY Braided Cuff
Are you a young woman who do not want to compromise with anything and you want to keep everything simple? Then this cute braided cuff is absolutely for you! It is very discrete and chic at the same time, so it will add a touch of innocence to your entire look.
See the tutorial: here
DIY Beaded Leather Bracelet
One thing is sure: leather bracelets will not disappear from the market anytime soon. What's more, this fancy DIY beaded leather bracelet will always look awesome and will be trendy! Let's make your own one!
See the tutorial: here
Hex Nut Diamond Bracelet
Here you can find a rather unconventional type of diamond bracelet as you can see, it is made from hex nut. The tutorial will explain you everything how to turn some hex nuts and bolts into wearable works of art.
See the tutorial: here
Nautical Rope Bracelet Tutorial
If you are a fan of marine and navy-inspired clothing, then this nautical rope bracelet tutorial is everything you need. It's super simple and straightforward, so create your own personalized bracelet within minutes!
See the tutorial: here
DIY Morse Code Bracelets
This DIY Morse Code Bracelet is simple, but you need to be patient to make this beauty come true!
See the tutorial: here
Finger Fishtail Loom Bracelet
Here is another useful and creative tutorial how to create your own bracelets at home. What about learning more about the whole project?
See the tutorial: here
Threat Tassel Bracelet
Believe it or not, creating this DIY bracelet will be like a trip back to the 19th century, and that is because of the lovely pearls.
See the tutorial: here
Turquoise Beaded Ring Bracelet
This turquoise beaded ring bracelet is more than just a classic, conventional bracelet. It works perfectly with a loose dress and it should be work particularly during the summer. The result will leave you speechless!
See the tutorial: here
 Discover Awesome Jewelry Making Ideas: 30 DIY Bracelets For Classy Ladies
Wooden Bracelets For The Ultimate Look
Are you an environmentally-conscious woman who do not want to use plastics, metal or PVC to create your own homemade bracelet?, Then the following idea will certainly appeal to you. You will be amazed to see just how easy it is to make such a bracelet!
See the tutorial: here
Make Your Own Leather Bow Bracelet
Leather bows are known to be extremely versatile. Find out more about the details!
See the tutorial: here
DIY Leather Friendship Bracelets
There is no doubt that it is a wonderful thing when you find the perfect way to express the love and appreciation you have for your bestie. These DIY leather friendship bracelets are cheap and super easy to make, so your best friend will wear it for years and love it a lot!
See the tutorial: here
DIY Hardware Store Bracelets
Are you the creative type of woman and you love to use alternative materials for creating outstanding masterpieces? This tutorial teaches you how to make DIY hardware store bracelets by using caps and compression sleeves.
See the tutorial: here
Nautical Rope Bracelets
You can use every single color that crosses your mind to create exquisite and customized nautical rope bracelets.
See the tutorial: here
DIY Crochet Bracelet
Crochet bracelets are known to be extremely versatile as well so learn how to make your own DIY crochet bracelets. Moreover, don't miss the following tutorial that will change the way you see homemade bracelets.
See the tutorial: here
DIY Neon Rope Cuff
It is a perfect choice for daring women who are not afraid to wear their originality on their sleeve.
See the tutorial: here
Jersey Knit Bracelet
You have probably heard that knitting can be super relaxing and useful as it improves limb coordination and stimulates your focus, so why not make the best of your hobby?
See the tutorial: here
Glammed Up Hex Nut Bracelet
This tutorial shows you how to make a breathtaking bracelet from hex nuts and bolts.
See the tutorial: here
Five Bracelets In 10 Minutes!
It is time to make cute bracelets in 10 minutes!
See the tutorial: here
 Discover Awesome Jewelry Making Ideas: 30 DIY Bracelets For Classy Ladies