21. An Invitation with a Response Card – Wedding Invitation Kits
Wedding invitations usually arrive with a response card attached, making it quicker and easier for guests to let the happy couple know, whether they will be able to make it or not. It's easy to put your wedding invitation and response in a big envelope, but a more elegant way to present your guests with the cards is with this great idea. Tie the invitation and the response card together with a ribbon and attach a few flowers to it, before placing it in the envelope. With just a few simple steps this package becomes more graceful.
22. Natural and Modern – A Simple, yet Flawless Wedding Card
If you like simplicity and artistry, feel free to use Mother Nature's gifts as patterns on your DIY wedding invitation cards. This can be a great choice, especially if you are thinking of a summer wedding since this wedding invitation provides an airy and simple atmosphere.
23. The Magic of Simplicity – Simple Wedding Invitations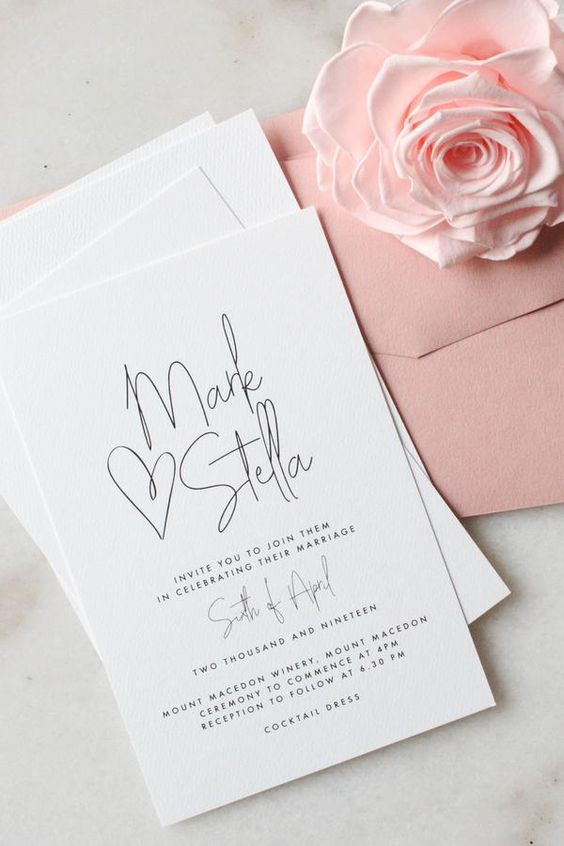 source
If you are thinking of choosing a simple invitation card, you can spice it up with an interesting font. All you need to watch out for is, that while the font should be interesting and eye-catching, your guests should be able to read it. Naturally, you can write the invitations with your own hand. To complement the simplicity of the invitation card, we recommend picking an envelope which is more on the ornamental side.
24. Creative Invitations and Envelopes – Fold Your Own Wedding Invitations!
A super creative idea for wedding invitations is to fold your envelope into an interesting form. This is something you can create at home without any difficulties. If you want to make it even more special, you can fold your invitation card into a unique shape using origami techniques. If you're planning on having an unusual wedding reception, for example hosting your wedding on a boat, you can try folding your invitation into a boat shape. This will get your guests into the mood for the ceremony.
25. Pale Colours – Handmade Wedding Invitations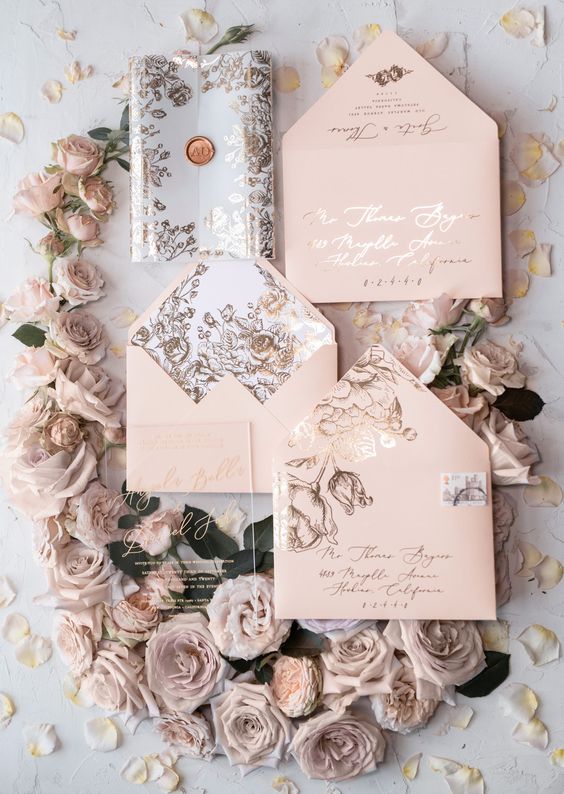 source
Cream or pale pink look good in any form. Using paler colours as a base will make sure that your wedding invitations' text is visible.
26. A Feeling of Provence – Earthy DIY Wedding Invitation Cards
Are you trying to bring the atmosphere of Provence to your wedding? Then this wedding invitation will hand you exactly that. You can use any sort of sackcloth to decorate the card and you can string a few flowers to it, preferably lavender. You can also try placing some lace on the card to make it look even more pretty.
27. Decorated with Lace – A Personalised Wedding Card

source
If you are searching for refinement, then lace can be a great option. Lace brings an elegant and romantic spark to everything. Choose the same colours for your invitation card that will be defining your wedding decor as well.
28. Pastel Colours – Classic Wedding Invitations
Pastel colours are becoming more and more fashionable at weddings. Light colours bring a warmness to your heart and accentuate the romantic vibe. Naturally, not everyone likes pastel shade and the soft style that it brings with itself, but we have to admit, it brings a harmonic feel to any wedding.
29. An Aesthetic, Flowery Wedding Invitation – Will Make your Guests Swoon 
Floral patterns look good in any form of decoration. If you decide on choosing a floral pattern for your wedding invitation, make sure to match the flowers with those, that will be in your bridal bouquet.
30. Wedding Invitations Decorated with Embossed Writing – Personalised Wedding Invitations



You have found the right wedding invitation idea if you are looking for a unique form of writing. With embossed writing, you can create a remarkable effect that will stun your guests. This is one of many great handmade wedding invitations.